Window Replacement and Installation in Carleton Place
Recent window installation jobs completed
in

Carleton Place

Cost: $2,467

Rating: #N/A

From procurement to installation and follow-up, our window installation service provides the full solution delivering high quality products and hassle-free service.

See more
Window Installation & Replacement Service
Seal in drafts and enhance your home's curb appeal with elegantly crafted, Energy Star® windows in vinyl, wood, or composite – custom built and installed by The Home Depot!
*Please note: this service offers custom windows and installation only. We do not install pre-purchased windows.

Custom Design Options*

Consult with a trusted window expert in person for the perfect fit and style! We'll help you find the style, colour, glass, frame, and hardware that best compliments your décor!

Prompt Order Fulfillment
In addition to our 1-year labour warranty, you can also expect accurate timelines and cost estimates to ensure the prompt delivery and installation of your new custom windows.

ENERGY STAR® Windows
Choose from trusted brands of energy efficient windows to seal in drafts, improve ventilation and indoor ambience.

No Hidden Fees
Budget your window replacement more easily with an accurate, on-the-spot project quote that includes all labour and material costs.

Thorough Site clean up

Our authorized installers remove all debris and complete a final inspection to ensure your satisfaction. Speak to our authorized installer about removal and disposal of your old windows during your free consultation.
What's Included in Window Installation at Home Depot
From procurement to installation and follow-up, we guarantee results and your satisfaction. Our window installation service in Carleton Place includes the following:
✔

Free Measurement and Design Consultation

✔

Cost Estimate and Timeline

✔

Energy Star®-certified/NFRC products

✔

Prompt Delivery

✔

Installation by Insured Professionals

✔

1-year Labour Warranty
Why Choose The Home Depot?
Basement, attic, or second floor bathroom, whether it's just one or two new windows or a whole-home window replacement, The Home Depot is your place to find a qualified, trusted window installers to get the job done right.
Guaranteed Installation
At The Home Depot we ensure your investment is protected. Choose from hundreds of stylish, ENERGY STAR®-rated windows, matched to your home's needs.
Trusted Installers
The Home Depot's local window replacement and installation professionals are licensed and background checked for your peace of mind.
Flexible Financing
We offer a wide range of affordable financing options to help keep your project on budget, including The Home Depot Consumer Credit Card and The Home Depot Project Loan.
Learn More
The Home Depot Window Installation and Replacement Process
Step 1
Speak With A Home Depot Design Consultant
Book a free consultation with a Home Depot Design Consultant to discuss your home window repair needs, including new window design and style options.
Step 2
Professional Installation
The window installers will deliver your new windows and complete the installation. They will fit your window openings, remove your old windows for disposal and install the new ones.
Step 3
On-Site Inspection
Upon completion, the window installers will inspect your new windows and confirm that the project meets your approval. They will also haul away your old windows for safe disposal. Request your FREE consultation with a Home Depot Window Installer to plan your new window installation in detail.
window installation Jobs Completed
in

Carleton Place
Choosing The Right Type of Window
Installing new, energy efficient windows can offer homeowners 4 key benefits:
Increased indoor ambience
Improved ventilation
Reduced annual energy costs
Added Curb Appeal
Consider the type of window replacement you require and explore your options with our authorized installer during your free consultation.
Below are the most popular types of windows we replace and install: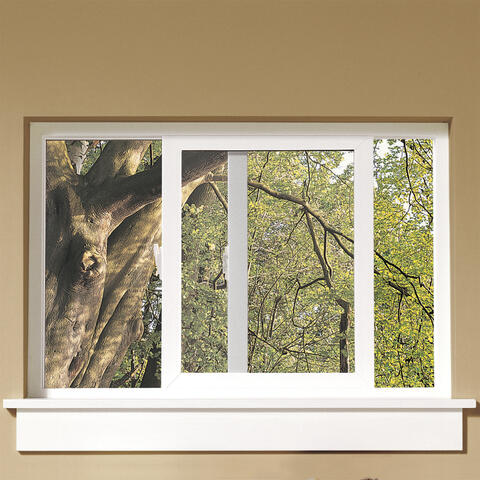 Single or Double Sliding Window Installation
Single sliding windows and double sliding windows feature smaller sills and cases that can be installed directly below a larger window to increase your view of the outdoors.
The sliding exterior windowpane opens horizontally to increase ventilation, is simple to operate, and can easily be cleaned.
Ideally suited for ground floor rooms, consider installing a mesh screen to keep insects out during the hotter months.
Best Suited For:
Improved ventilation for ground floor rooms with large windows such as a living room, dining space, master bedroom, or front foyer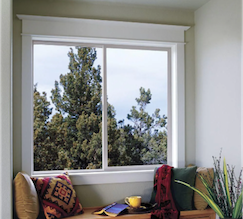 Single or Double-Hung Window Installation
Eliminate overpowering odors and add more natural light to a bedroom, laundry room, or bathroom with a single or double hung window.
Installing an energy-efficient single or double hung window can increase ventilation in small or moderate-sized rooms with either poor air circulation or high humidity.
The tilted windowpane also allows for easy cleaning of both exterior and interior panes.
Best Suited For:
Small to moderate sized rooms that require added ventilation and natural light, such as a bathroom, kitchen, or laundry room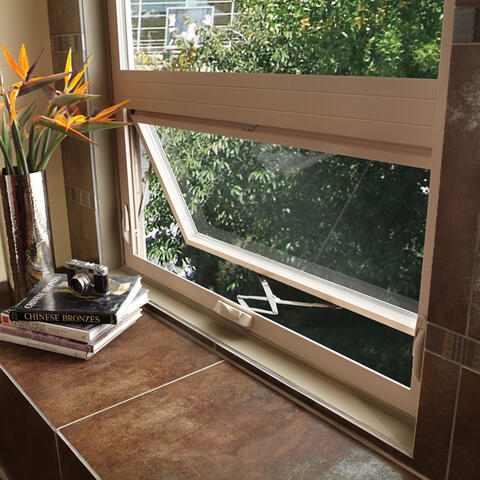 Awning Window Installation
An awning window can be a great alternative to a sliding window or casement window where space is limited.
Hinged from the top, they are designed to swing outward for added ventilation in small rooms such as a bathroom, basement laundry room.
Awning windows can also be doubled or stacked to increase air circulation indoors as needed.
Best Suited For:
Added ventilation for second storey rooms, high wind locations, or below non-functional picture windows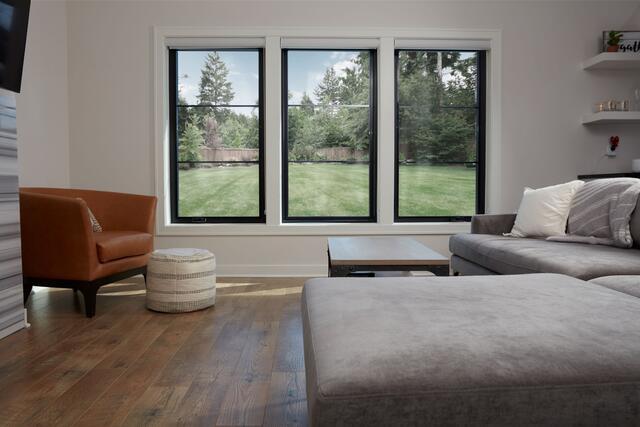 Casement Window Installation
Casement windows are designed for maximum ventilation and offer a wide range of configurations to increase your view of the outside world as well as indoor ambience.
A crank mechanism with a lock provides added security and allows the window to remain open like a door even in strong winds.
Our authorized installer can help you explore a wide range of configurations and energy-efficient glass panes for your casement window installation.
Best Suited For:
Second floor bedrooms, master suites for maximum ventilation and indoor ambience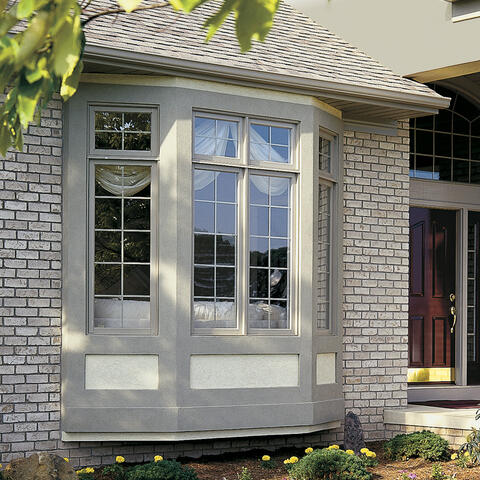 Bay Window Installation
A bay window consists of three panels to provide an expanded view of outside and more natural lighting indoors.
Choose from a range of bay window styles (e.g. Victorian, Tudor, Craft, Modern) to add curb appeal.
The angle and shape of the panels can be custom configured with energy-efficient glass panes to provide added personal space in a large room such as a master suite.
Best Suited For:
Improved ambience and ventilation for master bedroom, corner suite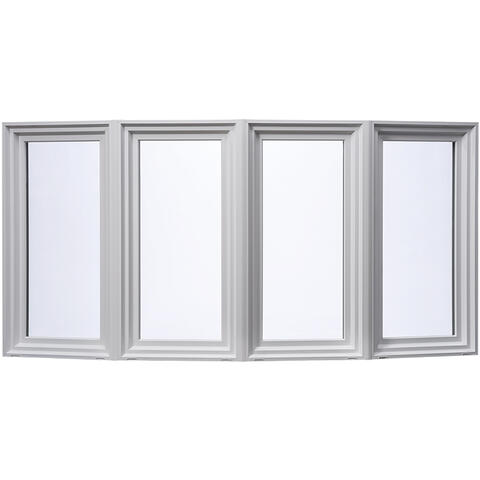 Bow Window Installation
Bow windows are designed to project externally away from the wall, allowing for added interior seating such as a bench.
Due to their unique wrap-around configuration, bow windows can be installed on corners for an expanded view, improved ambience indoors and added curb appeal.
The angle and shape of the panels can be custom configured with energy-efficient glass panes to provide added personal space in a large room such as a master suite.
Best Suited For:
Installing a bay window in ground floor rooms will make cleaning the exterior windowpanes much easier and safer.
Window Replacement Cost in Carleton Place
The average cost to install new energy efficient windows in Ontario is $800 per window
Replacing and installing 10 windows with vinyl frames can cost between $8K - $11K, including labour and materials
Custom windows from The Home Depot includes several options for glass and glass colouring, frames, frame materials, insulation and accessories, which can impact the final cost of your installation
During your free consultation you'll receive a detailed quote for the cost of your entire project
All costs are based on Ontario pricing and exclude applicable taxes. Costs shown are for illustrative purposes only and may not apply to all situations. All prices and price ranges represent approximate window installation costs and price ranges for 8-10 new windows plus installation as well as the key features specified.
Find out more about window installation costs in our detailed guide.
Frequently Asked Questions
What type of windows does The Home Depot install?
Home Depot Installers will install wood and vinyl replacement windows, custom-sized and designed, bay and bow windows. Custom windows are all made to fit, in a variety of shapes and with frames available in a full range of colours to match your home.
How much does it cost to install a window in Carleton Place?
Costs for window replacement can vary greatly depending on a number of important factors.
The average cost of window replacement and installation in Carleton Place ranges between $800 - $4000. Your window replacement cost depends on several factors, including the size and number of windows replaced, the labour involved, as well as the quality of materials chosen for your window installation.
Additional options, such as double- or triple-paned glass, custom colouring or enhanced insulation, improve privacy and energy efficiency in your home but carry a higher cost.
How long will it take to install windows?
In general, window installation service can be completed within a day. A standard size, full-frame window installation can be completed in 1-2 hours; bay window and bow window installations can be completed in 6-8 hours, depending on size and style.
How should I prepare my house for my window replacement and installation?
Please ensure that the window installer has access to the areas around windows, both inside and outside your home, by removing any window coverings, furniture, or other large items from these areas.
How often do I need to replace my windows?
The life span of your windows will depend on a variety of factors, from product quality and durability, to variations in local climate that can contribute to wear and tear over time.
Does my windows installation include putting the moulding back on the windows?
Yes, windows installation includes putting mouldings back on the windows. Casing, trim and sills are all part of the complete window installation service.
Do you reinstall security system components back onto new windows?
No. Our window installers will not re-install security system components onto new windows upon completion of your window installation.
Similarly, homeowners are responsible for removing any security system components, such as contacts and sensors, from existing windows prior to installation.
Does The Home Depot offer financing for window installation?
Yes. The Home Depot offers flexible financing at competitive rates, through The Home Depot Credit Card and The Home Depot Project Loan, to help you manage the cost of your window installation service.
Why do I need to consider replacing old windows?
Your windows form an important part of the weather-proof seal that insulates the inside of your home from rain, snow, wind, heat or cold.
A new window installation can improve your home's insulation and security and can also enhance your home's curb appeal.
What are some signs that I need a window replacement?
Window frames tend to lose their weather-proof seal over time, allowing drafts and moisture to make their way into your home. If you notice the following signs of wear and tear, it's time to consider replacing old windows:
Cold or warm air leaking into your home around the windows
Condensation on the windowpanes
Water stains or signs of moisture damage on or around window frames
Will a new window installation help me save on my energy bills?
All new windows installed by The Home Depot Home Services are ENERGY STAR® rated. They are designed to boost your home's energy efficiency and save you money by reducing heat gain or loss.
Your new windows will be more efficient than your existing ones; however, how much you save on your energy bills will depend on the kind of windows you choose and local energy rates.
Are window frames, casing, trims and sills included as part of this window installation service?
Yes. All custom windows ordered through this service are manufactured, delivered and installed with frames. All casing, trim and sills are included in the window installation package.
Please note that while minor painting is required, our window installers do not paint new casing or sills; any paint work must be arranged separately.
Can windows be installed in cold weather?
Yes. Window replacement is offered as a year-round service. A new window installation can generally be completed as long as temperatures and weather conditions permit a safe working environment for our Installers.
Does The Home Depot also install glass block windows?
No. Glass block windows require a completely different installation process and are not available through The Home Depot's window installation service.
Does this service cover window replacement without frames or installation of stock windows purchased in-store?
No; this window installation service does not include window repair or installation of new window glass in existing frames.
While a limited selection of stock windows can be purchased directly from our stores, our window installation service is available for custom-order window replacement only.
Is window insulation included?
All windows available through this window installation service are manufactured with the latest, built-in insulation technologies.
Available double- or triple-paned windows are built with a sealed airspace in between glass panes to ensure superior insulation performance.
Nearby Stores
Stores in Carleton Place, ON
---
570 McNeely Avenue Carleton Place, ON K7C 0A7
Store: 800-466-3337 Tool Rental: Pro Desk:
---
570 McNeely Avenue Carleton Place, ON K7C 0A7
Store: 800-466-3337 Tool Rental: Pro Desk:
---
570 McNeely Avenue Carleton Place, ON K7C 0A7
---
570 McNeely Avenue Carleton Place, ON K7C 0A7
Store: 613-253-3870 Tool Rental: Pro Desk: