Water Heater Installation in Brampton
Recent water heater installation jobs completed
in

Brampton

Cost: $1,395

Rating: #N/A

Save money by purchasing your tank instead of renting it. Our Installers will help you choose the right water heater for you based on the needs of your household.

See more
4.64 *
Quality
Workmanship
The Home Depot Canada Brampton offers emergency water heater installation services.
Call 1-800-HOME-DEPOT and get help right away if you're experiencing urgent issues with your water heater, such as:
No or not enough hot water
Taking too long to get hot water
Leaks
Rusty or cloudy water
Discolouration on or around your water heater
Poor reliability
Our trusted water heater installers will help you find the best water heater (based on your consumption), deliver it, remove your old water heater and install your new one. When it's all done, we'll inspect our work to ensure it meets your expectations and perform a thorough cleanup.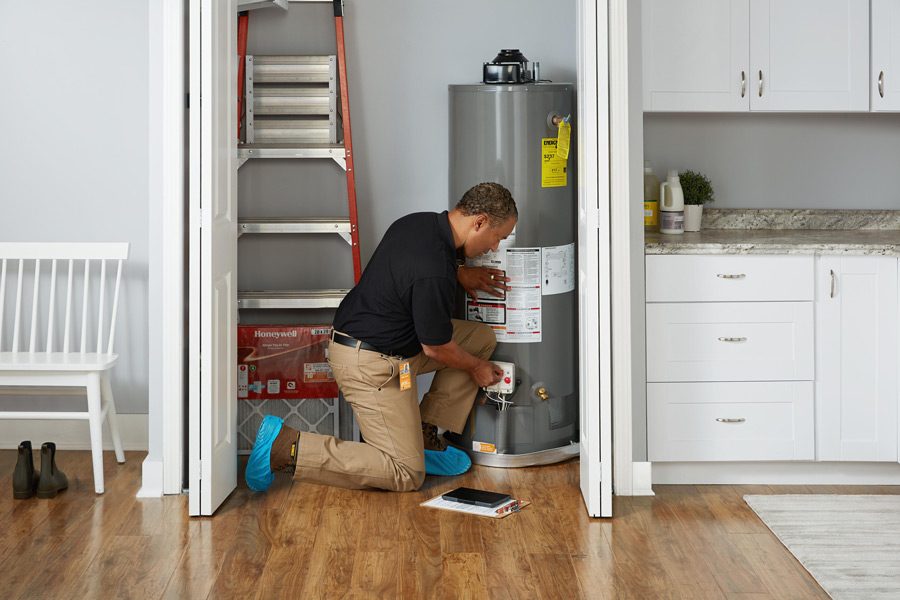 What Does Water Heater Installation Service Include?
✔ A brand-new, energy-efficient water heater
✔ A free, no-obligation quote for your entire project.
✔ Discuss your options with our expert water heater installers during your free consultation.
✔ Licenced, background-checked Home Depot Installers.
✔ A Home Depot backed 1-year labour warranty.
✔ Flexible Financing with Project Loan – Credit available for up to $50,000. No annual fees.
Types of Water Heaters We Install
Home Depot Installers specialize in a variety of water heater installations and are best able to determine the right options for your household.
Our water heater installation services in Brampton include: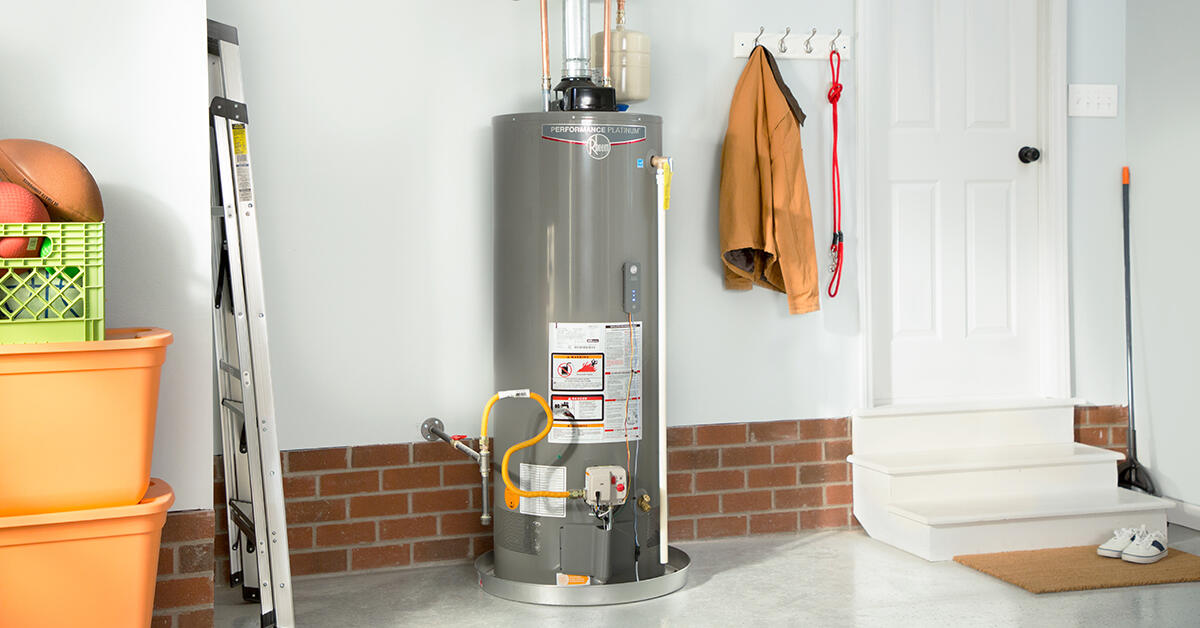 Tank Gas Water Heater Installation:
We provide both gas water heater installation and gas water heater replacement. Delivery and standard gas line connections are also included.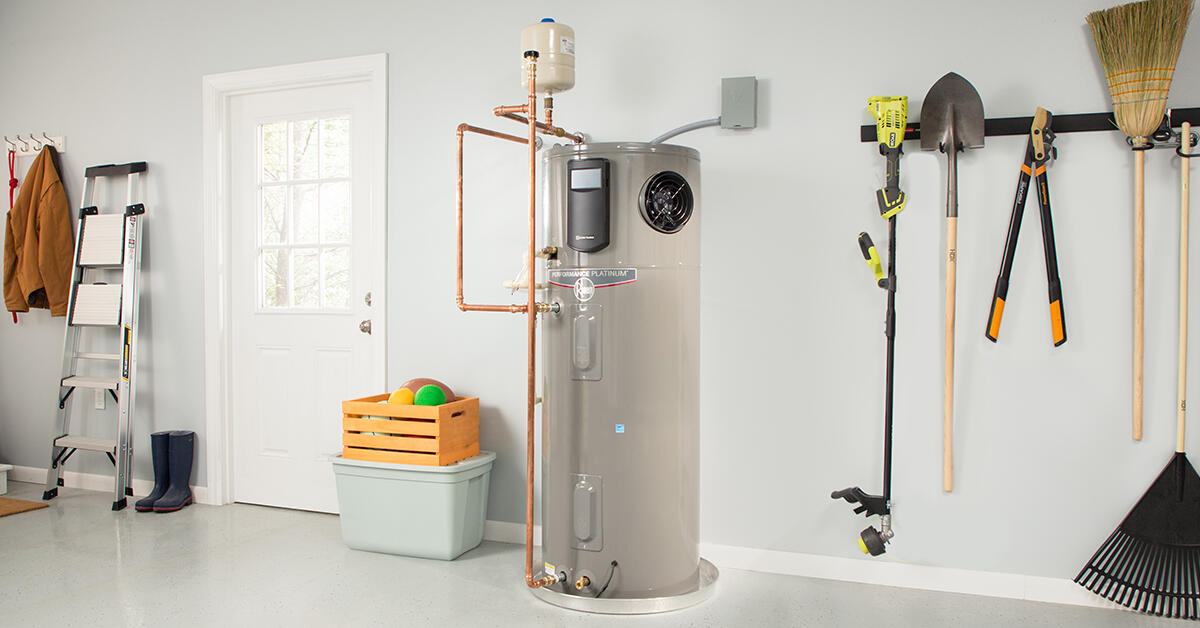 Tank Electric Water Heater Installation:
Our water heater installers are licensed for electric water heater replacement and electric water heater installations throughout Brampton.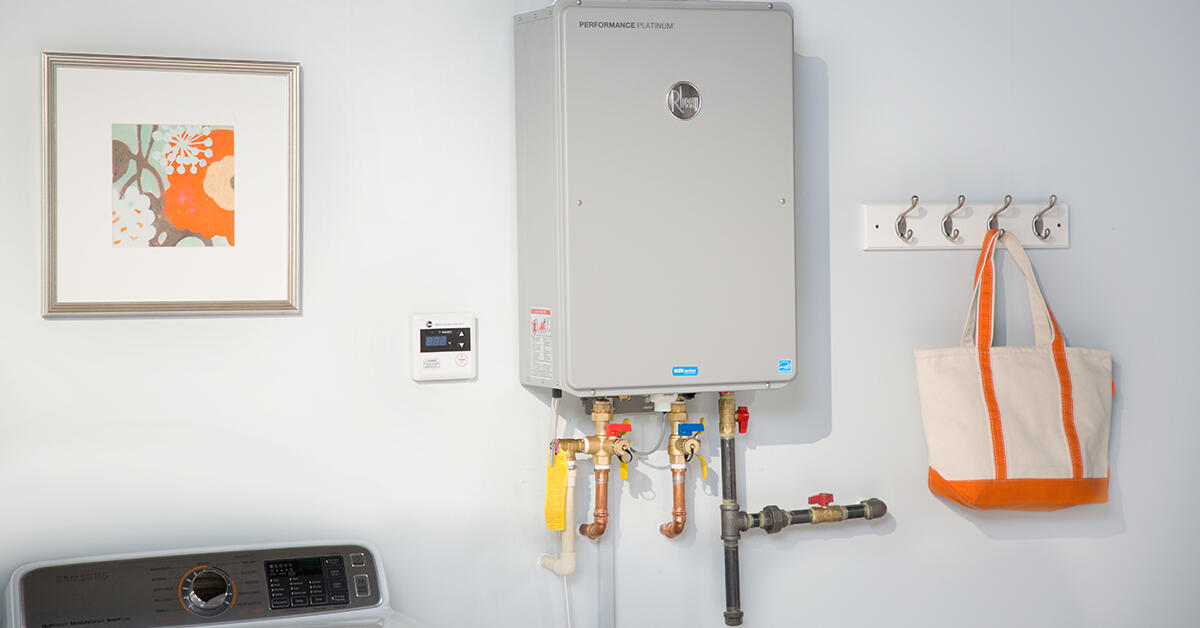 Tankless Gas Water Heater Installation:
Find the perfect energy efficient gas water heater and let our Home Depot Installers do the rest. We install and replace tankless gas water heaters of all sizes.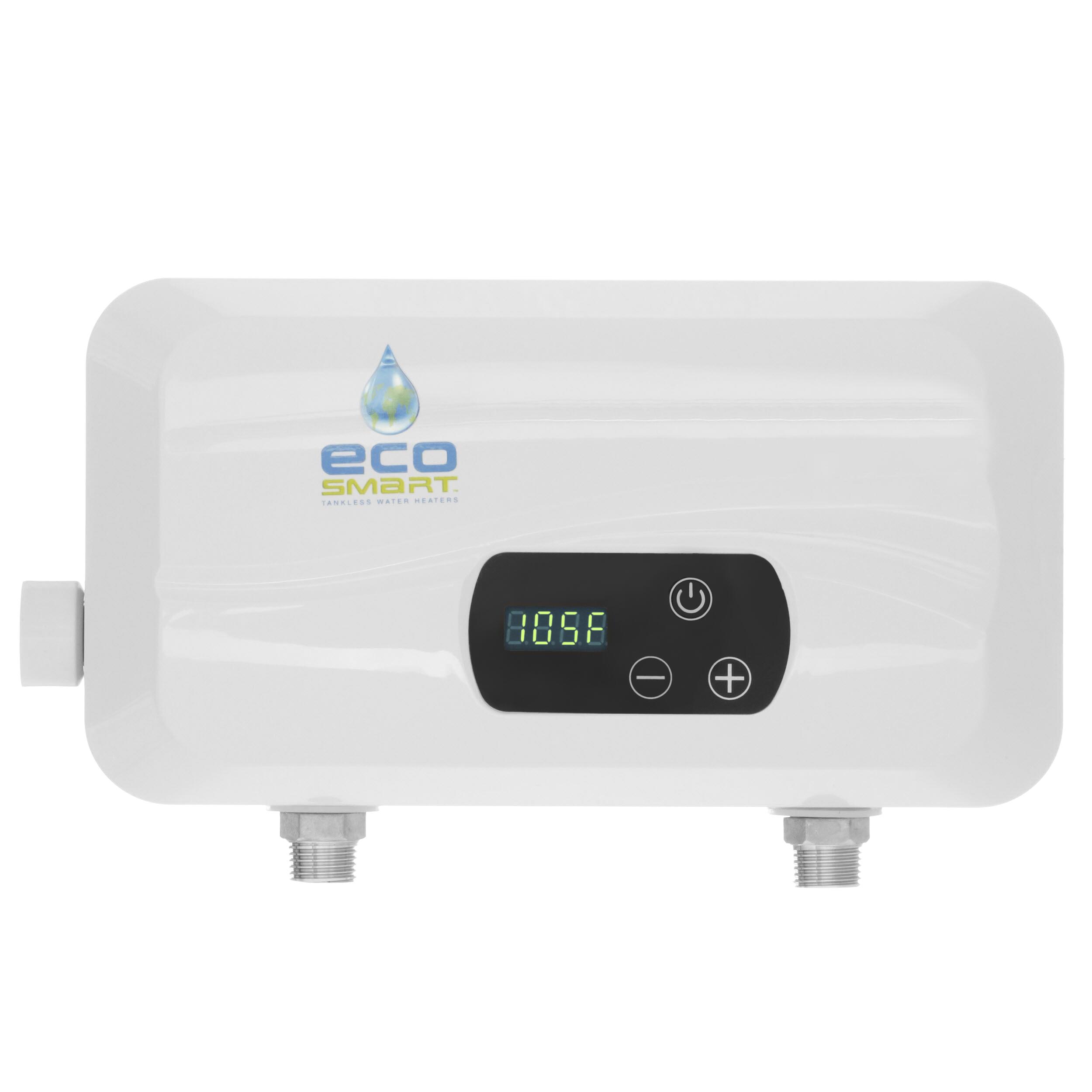 Tankless Electric Water Heater Installation:
Book a consultation to discuss your needs for either tankless electric water heater installation or tankless electric water heater replacement.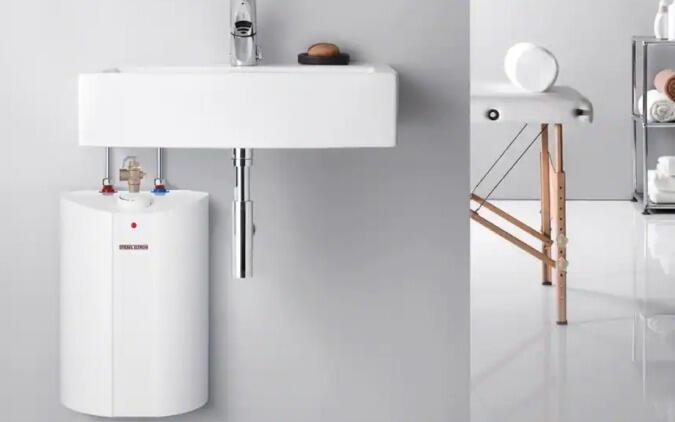 Point-of-Use Water Heater Installation:
P-O-U Water Heater Replacement and point-of-use water heater installation for condo dwellers, basement apartments, and homes of all sizes.
Why Choose The Home Depot?
Reliable Water Heaters
Our selection of high-quality brand name and ENERGY STAR® certified water heaters provide hot water to your home in a variety of methods, to fit any need. From traditional tank-type to under-sink mounted point-of-use heaters, no matter where you live in Brampton, you'll always have an efficient hot water solution.
Trusted Installers
Our team consists of licensed Home Depot Installers who have passed background checks, so you can be confident in their reputation and the quality of their work.
Flexible Financing
We have flexible financing solutions available to help you manage unexpected repairs. Check with an associate or click here to learn more about our project loans and financing options.
Learn More
Water Heater Installation Process
1
Free Virtual/In-Home Consultation
Our authorized installers in Brampton offer a FREE In-Home or Virtual Consultation to help you select the right water heater for your needs.
They may also conduct an on-site inspection to ensure installation meets local code and if any additional permits are required.
2
Professional Installation
Your installation will take place on a pre-scheduled date that is convenient for you.
The installer will remove the existing unit and install your new water heater, while maintaining a safe work site and ensuring a thorough cleanup.
Once the project is complete, the installers will conduct an on-site inspection to ensure the installation meets local code.
Finally, the Installer will familiarize you with the proper use of your new water heater and perform a final inspection of the project with you to confirm your satisfaction.
Checklist before you request installation...
Having these key details on-hand will give our water heater installers a better idea of what you need for your water heater replacement project:
✔

Type of water heater (tank or tankless, gas or electric)
✔
Size and location of your existing water heater
✔

Type of venting it uses (metal chimney or PVC piping)
Choosing the Right Water Heater
Water heaters are responsible for heating your water and supplying it to household fixtures and appliances, such as dishwashers, showers, and more. To find the right water heater for your household, it's important to understand the different types of water heaters and features.
Tank Vs Tankless Water Heater: Which Is Better?
Tank water heaters store water and heat it on demand, while tankless water heaters heat the water using coils, without storing it. Both gas and electric water heaters are energy efficient, but the annual savings you experience will vary depending on such factors as local energy rates, water hardness and your consumption level. Tank water heaters are generally less expensive and can accommodate high-demand households, while tankless are more expensive up front, but can reduce your energy usage by around 30 percent.
Storage Tank Water Heater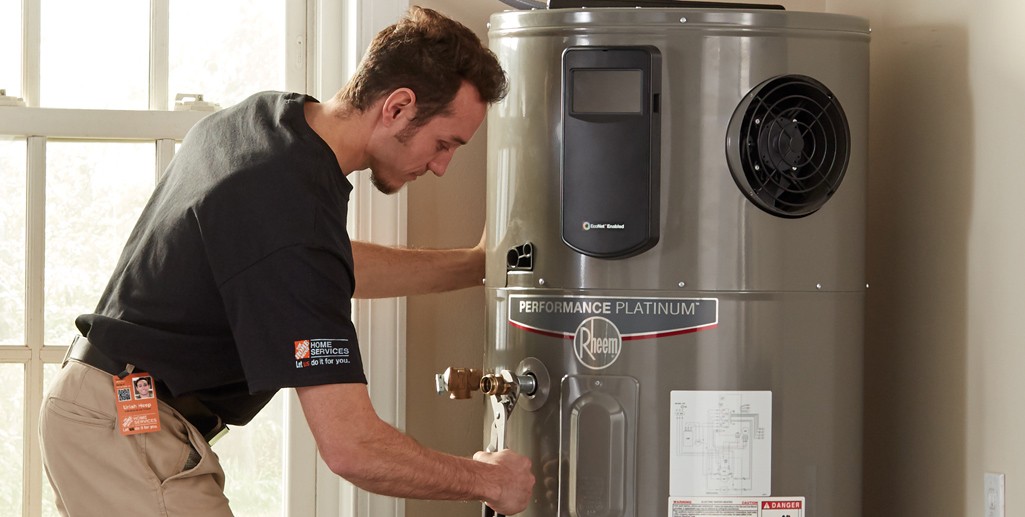 Stores water and heats on demand
Energy Efficiency is slightly lower than tankless, with an average 20% savings annually
Requires considerable storage space for standard 50-gallon tank
Must be connected to the main plumbing line of your home
Installation can be costly due to labour
Typically includes 5 – 10-year warranty (with options for extension)
Tankless Water Heater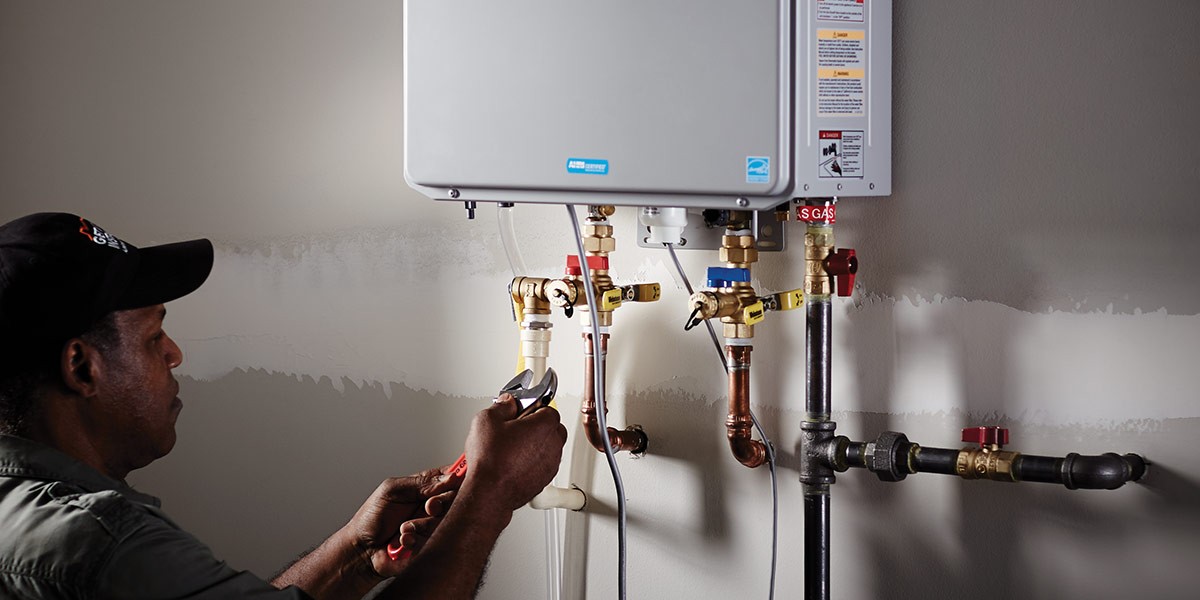 Heats water on demand without storing water
Delivers high energy efficiency consumption with up to 30% savings annually
Compact design requires little space and can be wall mounted
Can be connected directly to the point of use in your home such as kitchen sink or shower
Installation can be less costly if replacing or upgrading an old tankless water heater
Typically includes 5 -10-year warranty (with options for extension)
Water Heater Installation Costs in Brampton
The cost of installing a water heater in Brampton varies by the type of heater as well as the labour required for installation. Gas hot water tank installation is more costly than electric, while tankless water heaters are more costly than storage tank water heaters.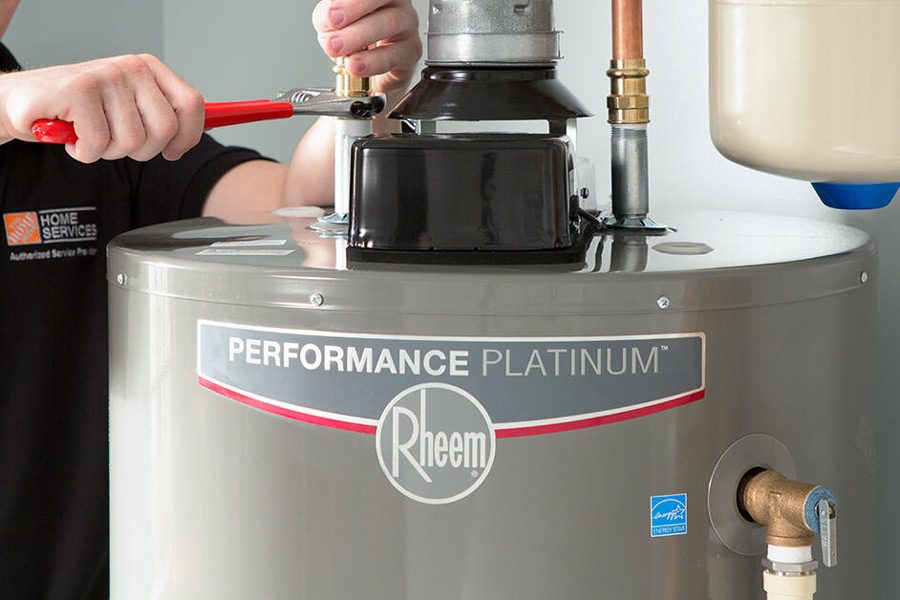 Tank Water Heater Installation Cost
Water tanks range in cost from approximately $1,147 to $3,022, with an average cost of $1,692, before taxes. This price includes installation, which is bundled with your purchase.
Factors that can impact the cost of your water heater installation include:
Storage Tank Capacity (20 -80 gallon)
Cost of the Water Tank (including extra features, energy efficient certification, warranty)
Fuel Source (gas to electric or vice versa)
Cost of Permit (required for electrical, plumbing or gas work)
Upgrading from traditional to tankless
Plumbing, Gas or Electrical connection repairs
A Home Depot Installer can help you decide which water heater is right for your home and provide you with a free quote.
water heater installation Jobs Completed
in

Brampton

Save money by purchasing your tank instead of renting it. Our Installers will help you choose the right water heater for you based on the needs of your household.
Frequently Asked Water Heater Installation Questions
When should I replace my water tank?
Most hot water tank replacements should be done around the 10-year mark. At that point, while your system may still last a few more years, they may no longer be covered under warranty and will often decline in performance, reliability and efficiency.
An aging hot water tank that is performing poorly is likely to cost you in the form of higher utility bills.
Tankless water heaters tend to last longer than hot water tanks and can be expected to last 15-20 years before they need to be replaced.
Which type of water heater should I install?
Consider fuel source (gas or electric), storage capacity (up to 80 gallons), tank type (tank or tank-less), and manufacturer warranty options. Also consider the hot water heater installation cost or water heater replacement cost.
Do I have the option of choosing my own type of water heater?
Yes. We offer many options at The Home Depot in Brampton. We carry a variety of Rheem traditional tank water heaters in both gas and electric.
What are some additional water heater features to consider?
Depending on your needs, inquire about:

Product efficiency ratings:

Energy efficient certification by ENERGY STAR® indicates the water heater has been tested and approved for energy efficiency. Check for the Energy Star score or rating to determine whether your new water heater is energy efficient.

First-hour hot water delivery:

The quantity of water that the heater will deliver at 140°F, starting at a temperature of 40°F within the first hour of operation.

Recovery time:

Recovery speed is the amount of time it takes to heat a full tank of water.

Automatic shutoff valves:

An automatic shutoff valve helps prevent fires by shutting off the flow of gas if there's movement in the ground or the gas flow experiences a sudden, sizeable increase.

Self-cleaning units:

Automatically fight lime and sediment buildup to lengthen tank life and maintain peak efficiency for a longer period.
What is the difference between gas or electric?
Gas usually costs less to operate but is a slightly larger upfront investment and less efficient.
Electric costs more to operate but is more efficient and offers higher energy-factor ratings.
What is the difference between conventional storage tank and a tankless one?
A conventional tank constantly heats stored water, is good for high usage demands and is economical. It can be stored in a closet, basement or garage and has a capacity of up to 80 gallons.
A tank-less water heater has lower operating costs, uses less space and can reduce energy consumption by as much as 30%. It can also provide continuous hot water at a precise temperature; however, it does require more upfront investment and may need venting.
What is a permit and why do I need it?
Permits are governed by local cities and municipalities and are required to ensure that a local plumbing inspector is dispatched to the site as a third party to review the workmanship of the installer.
This is meant to ensure that the install has been executed safely, is in line with local municipality, city or provincial plumbing codes, and ensures that the quality of workmanship by our licensed professional installers meets plumbing standards.
Permits are required on most water heater installations and pricing varies by province, city and municipality.
Our installation professionals can review the permit process and pricing with you and answer any questions you have.
How will I know the service provider for my water heater installation is authorized by The Home Depot?
Our Installation Service Professionals carry an orange The Home Depot Home Services badge that feature a picture and authorization number. If this badge is not visible, ask to see it.
This badge means they have undergone a thorough background screening process and are properly licensed and insured.
What is the best way to ensure a longer life for my water heater?
Flush your water heater once per year to help remove sediment or rust.
This can greatly increase the life of your water heater beyond the manufacturer's warranty timeframe.
Does The Home Depot install water heaters purchased separately?
No. The Home Depot's water heater installers will not install water heaters purchased separately, whether from a Home Depot store or elsewhere.
For the purposes of liability and warranty coverage, the water heater installer can only verify the quality and condition of equipment that they themselves supply and install.
Want more information? Click below for all your water heater installation needs.