Kitchen Cabinet Refacing Services in Nanaimo
Recent cabinet refacing jobs completed
in

Nanaimo

Cost: $7,020

Rating: #N/A

Remodel your kitchen without a major renovation. Kitchen cabinet refacing is a cost-effective way to give your kitchen a whole new look by replacing cabinet door and drawer fronts and veneering the exterior of the cabinet boxes.

See more
4.4 *
Installer
Workmanship
What is Cabinet Refacing?
Simply put, cabinet refacing (also called cabinet refinishing) is essentially a form of cabinet renovation. It restores and upgrades your existing cabinetry, without changing the structure or layout of your kitchen. Transform your kitchen décor with professional cabinet refacing services in Nanaimo from The Home Depot.

Cabinet Refacing vs Kitchen Renovation
Cabinet refacing (also called cabinet refinishing) restores and upgrades your existing cabinetry, without changing the structure or layout of your kitchen.
Surface panels are removed from the cabinet box exterior to change the colour and appearance of your cabinets.
Hardware can also be upgraded to complete the look.
Cabinet Refacing can usually be completed in less than a week (unless it is a part of a larger home project)– a much shorter timeframe than needed for a full kitchen renovation.
And, in most cases, you can continue to use your kitchen while your kitchen cabinet refacing project is underway!
When is Cabinet Refacing a Good Idea?
Cabinet Refacing may be right for you if you are considering any of the following:
✔

You want to upgrade the look and functionality of your kitchen cabinets.
✔

You are happy with your existing kitchen layout.
✔

You want to transform your kitchen decor without a full kitchen renovation.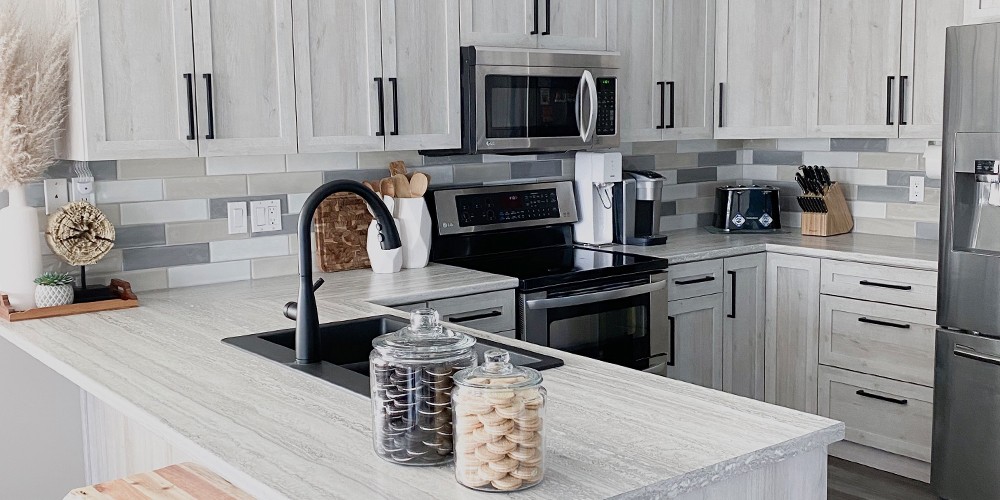 What Does Cabinet Refacing Include?
Our Kitchen Cabinet Refacing Services in Nanaimo include:
✔ Free consultation to discuss your design, materials, labour and costs, including a detailed quote for your entire project
✔ New cabinet doors and/or drawer fronts, available in a full range of styles, materials and colours
✔ New surface materials installed on your cabinet boxes to match the new doors and drawers*
✔ The option to replace drawers with doors or vice-versa
✔ Professional installation by experienced Home Depot Installers
✔ 1-year parts and labour warranty
✔ Flexible Financing with Project Loan – credit available for up to $50 000. No annual fees.
Bold, Black SmartMatte meets the crisp lines of the London 10200 door with the routed V-groove detail giving a fresh 5-piece look to this shaker style door. SmartMattes give a tech-y solution to the everyday kitchen problems. These materials are anti-fingerprint, extremely matte finish, and micro scratches are reparable!
Modern slab door style features sleek square edges for a clean, minimal look. Combined with the classic white Stratus SuperMatte this combo is a showstopper.
From our Prestige Collection, The CS00 is a 5-piece assembled doors. The parts of each door are cut and assembled similarly to wood doors, giving woodgrains a true-grain appearance and solid colors clean, defined lines. Available in Mitered construction styles in a variety of colour options.
Mixing two colours in a space creates personality and style. This example is using Haze SuperMatte lowers and our light woodgrain, Winter Fun on the uppers to create an elegant space to cook and entertain!
Seamless 3D Laminate doors are easy to clean and come in a variety of styles and colors. This combo is a very popular one and is so versatile to whatever style you're going for.
From modern farmhouse style to timeless classics, 5-piece cabinet doors in engineered materials give you a real-wood door look at a more affordable price point.
This color is a very popular light grey. Our line of SuperMattes come in a variety of neutrals as well as blues and greens. These finishes give a silky-smooth matte finish that is seamless and easy to clean with just soap and water.
Why Choose Home Depot?
Trusted Installers
Our team consists of licensed Home Depot Installers who have passed background checks, so you can be confident in their reputation and the quality of their work.
Guaranteed Results
The Home Depot Canada offers high-quality cabinet finishes in a wide variety of styles that perfectly complement any design. All our cabinets — including wood, 5 Piece Prestige and Thermofoil (RTF) — are backed by a one-year parts and labour warranty.
Financing Available with Project Loan
Upgrade and revitalize your kitchen with cabinet refacing. Project Loan offers you the budget and flexibility to get the job done. Credit available for up to $50,000. No annual fees.
Learn More
Kitchen Cabinet Refacing Process
Request a consultation to schedule an in-home or virtual appointment with a Home Depot Installer.
During your appointment, the installer will facilitate measurements of your kitchen, discuss options, and provide an estimate for your project.
2
Professional Installation
At the scheduled time, the installer will visit your home to complete your cabinet refacing project.
They will remove and replace existing doors, drawer fronts and hinges, and prepare cabinet surfaces to match the new style.
Upon completion, the Installer will perform a final inspection to confirm your satisfaction, as well as a site clean-up.
They will advise you on proper care and maintenance of your new kitchen cabinets.
Kitchen cabinet refacing Projects Completed
in

Nanaimo

Remodel your kitchen without a major renovation. Kitchen cabinet refacing is a cost-effective way to give your kitchen a whole new look by replacing cabinet door and drawer fronts and veneering the exterior of the cabinet boxes.

Cost: $7,020

Rating: #N/A

Cost: $5,310

Rating: #N/A

Cost: $8,280

Rating: #N/A
How Much Does Cabinet Refacing Cost?
In Canada, the average kitchen cabinet refacing cost is $6,500 for a job that involves brand new cabinet doors, cabinet boxes updated with engineered materials to match new doors, new hinges, cabinet hardware and labour, taxes excluded. Cabinet refacing cost typically ranges from $5,000 in the low end to $12,000 for larger projects.
Enhancements like glass doors, light valances, crown moulding, new hardware and other accessories can easily be added for a more customized look.
Cabinet Cost by Province
The cost of your cabinet refacing project may vary depending on where you live, among other factors. The following chart gives you an idea of what you might expect.
| Province | Cost |
| --- | --- |
| Alberta | $10,074 |
| British Columbia | $8,354 |
| Manitoba | $5,804 |
| New Brunswick | $8,227 |
| New Foundland & Labrador | $12,761 |
| Nova Scotia | $8,469 |
| Ontario | $9,354 |
| Quebec | $8,936 |
| Prince Edward Island | $5,144 |
| Saskatchewan | $8,221 |
Cabinet Cost by Province
Flexible Financing for Cabinet Refacing
Flexible financing options are available to help you better manage your budget for all your home improvement projects. Find out how The Home Depot Consumer Card and The Home Depot Project Loan can serve you.
Ready for your dream kitchen but on a budget? Schedule your free virtual or in-home consultation with a cabinet refacing expert.
Frequently Asked Questions
Is cabinet refacing a good idea?
If you like your overall kitchen layout, kitchen cabinet refacing is an economical way to update the look of your kitchen with minimal disruption and waste.
How will the installer change the look of my kitchen cabinet doors?
When completing kitchen cupboard refacing the framework of your cabinets (aka the cabinet box) remains intact, however the surface material can be refaced to refresh the cabinet box. Additional elements such as cabinet doors, drawer fronts, cabinet door hinges and handles, will also be replaced.
You can select from several cabinet styles and colours to enhance the appeal and functionality of your new kitchen.
What cabinet style and colour options can I choose from for my cabinet resurfacing?
Home Depot offers a wide variety of style and color combinations to reface your cabinets. Our door and drawer options include: Modern Shaker, Slab, Classic Arch and Cathedral.
Available finishes include 3D Laminates in matte and texture, high gloss acrylic, and 5-piece textured woodgrain options.
Can the installer paint my existing cabinets a different colour?
Connect with our experienced Local Pro for Interior Painting Services.
Should I paint or reface my kitchen cabinets?
Some kitchen cabinet and cupboard surfaces cannot be painted. In some cases, blemishes cannot be concealed with a new paint and refacing is the better option.
How long does cabinet refacing take?
Once installation begins, most cabinet refinishing projects can be completed in under 1 week.
How long does kitchen cabinet refacing last?
With proper care and maintenance, the results of your cabinet refacing could last as long as ten years. The Home Depot offers high-quality cabinet components, available in a range of durable materials. All parts are backed by our one-year parts and labour warranty.
Does cabinet refacing look cheap?
Cabinet refacing does not look cheap and can help refresh a dated kitchen and improve the value of your home without having to do a complete knock-down and remodelling.
Can you do my countertops as well?
Yes. New and custom kitchen countertops for cabinet refacing projects can be installed for an additional cost.
Ask your installer about available materials and patterns for your new countertops.
What are the available methods of payment?
All major credit cards are accepted, as well as financing options with The Home Depot Consumer Credit Card.
Stores Near You
---
6555 Metral Street Nanaimo, BC V9T 2L9
Store: 800-466-3337 Tool Rental: Pro Desk:
---
6555 Metral Street Nanaimo, BC V9T 2L9
Store: 800-466-3337 Tool Rental: Pro Desk:
---
6555 Metral Street Nanaimo, BC V9T 2L9