Home Depot | Local Home Improvement Store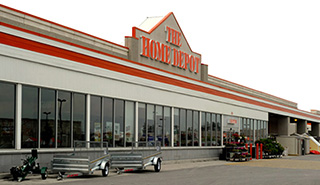 The Home Depot #7189
500 rue de la Concorde
Levis, QC G6W 8A8
(418) 834-7050
Hours:
Mon-Fri:
8:00 am
-
9:00 pm
Sat-Sun:
8:00 am
-
5:00 pm
Get Directions
Find a Home Depot Near You
The Home Depot Stores Near Levis
Upcoming Events
The Home Depot offers free workshops for do-it-yourselfers of all ages and experience levels. Find your store and register for workshops today! More Details
Store Details
The Home Depot #7189 is located at 500 rue de la Concorde, Levis in Quebec, Canada and offers all of Home Depot's signature products, tools, and services.

At each and every one of our Home Depot store locations in Quebec, you'll find friendly staff members eager to assist you in any way possible. Whether you're looking for appliances, bathroom and kitchen remodeling ideas, patio furniture, power tools, BBQ grills, carpeting, lumber, concrete, lighting, or ceiling fans, our team of experts will take your style, budget, and product requirements into consideration.

Whether you're looking to buy, or get inspiration for your next home project, visit our store today.